back to: Research Program Information

ALUMINUM CHLORIDE AS AN AMMENDMENT TO REDUCE SOLUBLE PHOSPHORUS CONCENTRATIONS IN LAND APPLIED SWINE MANURE
Forbes R. Walker, Robert T. Burns, Lara B. Moody
Biosystems Engineering & Soil Science
Excessive loading of phosphorus (P) onto agricultural lands has been recognized as a surface water quality threat in both Europe and the United States. Methods that can reduce either P input to the environment or P movement into surface waters are needed to address this problem. Binding soluble phosphorus (SP) with aluminum to form aluminum phosphate in swine slurries can reduce the movement of P into surface waters. In the form of aluminum phosphate, phosphorus is not available to the environment. It can only become available if a large shift in pH occurs. Reducing the movement of P in slurries enables producers to land apply manure with a reduced risk of pollution.
Two field experiments were conducted to assess the practicality of reducing soluble phosphorus in swine waste slurry through the addition of aluminum chloride (AlCl3), under field conditions. One of the swine slurry holding ponds tested initially had low SP concentrations, 22.5 mg L-1; the other initially had high SP concentrations, 354 mg L-1. The second holding pond was twice the size of the first, yet both ponds were treated with equal amounts of AlCl3.
Results show a 79% reduction from the low SP containing holding pond and only a 20% reduction in the high SP containing holding pond. However, the AlCl3 was much more efficient at reducing SP from the high SP slurry than the low SP slurry, 48% efficiency vs. 6%.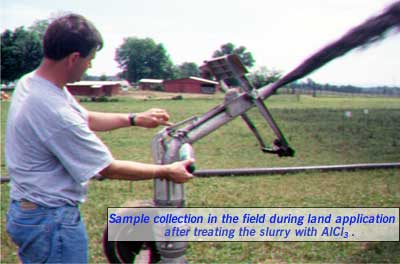 Field scale control of SP using chemical amendments such as AlCl3 is technically feasible, especially in slurries with a high SP content.